Our Adult Sunday School Classes consist of the following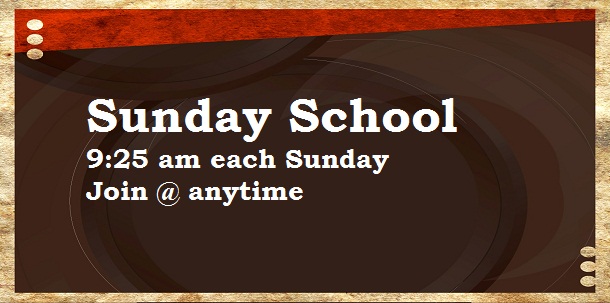 JOY
The J.O.Y. Sunday School class is an adult class that tries to live up to their name: Jesus, Others, You by being a praying, compassionate group who tries to show Jesus' love by supporting community groups and service organizations. They use the Cokesbury Adult Bible Studies quarterly for their weekly lessons and class members rotate the teaching opportunities.
Bible
The Bible Class is taught by Linda Nelson and Jean Cole. They use materials from David C. Cook including studies on Acts, 1 Corinthians, and Hebrews. They are currently studying faith. What is faith? Where does faith take us? What does it mean to live out your faith? Join the Bible class in the library each Sunday at 9:25am.
Wesley
The Wesley Class is a fellowship of believers, most of who are over the age of 60. However, they welcome new members of any age! Through study and discussion they strive to strengthen their relationship with God and become better servants.  Lessons derive from many sources, but the Adult Bible Studies series usually provides the outline. They meet downstairs in the Chapel and would love to have you check it out!
Seekers
The New Seekers class is a group ranging in ages from their 30s to 60s. All are welcome. Maureen Lane facilitates the group as they study contemporary Christian books by several authors in lively conversation on the ideas presented. They meet in the McCormick room located on the Main floor, first room on the left.
Harmony
Harmony is a small class of about twelve seniors. It is a spirited group that is not afraid to speak up and express their own views and opinions. Their study guide is the Adult Bible Studies (Quarterlies).  Leaders are Terrell McConnell with Phyllis Howard as substitute whenever Terrell is unable to be at class. The class is not only bound by their Sunday fellowship, but also by friendship, one with another.
 Young Adult
The Young Adult class is a group of varying ages and a mixture of singles, young couples, and married with kids. The class meets at 9:25am, downstairs in the gym. It is led by Mark and Cindy Meyers.